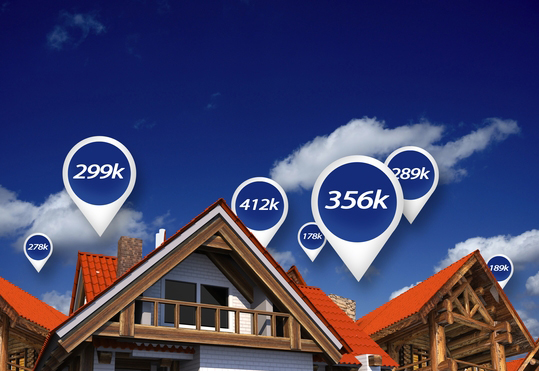 Ok, so as you may know (if you didn't already) running comparable real estate sales and understanding how to do it is one of the single MOST important things you can do in order to get deals. I mean think about it! If you don't know how to analyze a deal and make offers, how are you ever going to know if you're paying too much for a house and more importantly… making money!
So in this section what I want to do is walk you through the steps that you need to know in order to run comps so that you can make the right offers.
Some of the resources that we are going to use are:
1. RealQuest.com
2. Bank of America Home Value Estimator
NOTE: The ABSOLUTE BEST place to get your comps is from a Realtor.  But if you don't have Realtor relationships yet, then the first 2 steps should help you.
The reason that we are going to look at the 2-3 resources above is because when you run your comparable sales on a property, you want to make sure that you are getting information from at least 2-3 sources, and then you want to use the 2-3 sources to give you an estimate of what the property is worth so that you can make your offer accordingly.
Important: When you are getting comps from Realtors, you can disregard the other sources.
Now RealQuest.com has a free estimator, but obviously if you want the real meat and potatoes then you will want to get their paid service. But for the purposes of the article I am

going to share with you the free way of getting the information that you need in order to make educated offers on properties.
So with that said, let's look into how to run comps using RealQuest.com!
The first thing you want to do is go to RealQuest.com and click on the link that says "Real Quest Express" up at the top left hand corner of the page.
Then you need to enter the property address in the box where it says "What's Your Home Really Worth?". Once you do this your property details will show up. Now there is a catch (as I have mentioned before), if you want to look at what recent houses sold for in the area you may need a subscription to RealQuest.com, but if you can't afford the subscription you can use the "Estimated Number" that RealQuest.com will give you.
Once you are done on RealQuest.com what you need to do is go to the Bank of America Home Value Estimator site.

You can visit this site by going to Google on searching for "Bank of America Home Value Estimator". The site should be either the first or second link.  The title should say "What's Your Home Worth? – Real Estate Center – Bank Of America.  It can also say, "Home Valuation – Real Estate Center – Bank of America".
Once you're on the site, all you have to do is enter the FULL property address. Make sure you enter the zip code as well because if you don't then the site will not accept the details.
And once the property details come up you will receive an estimated property value just like you did with Real Quest, but Bank of America will also give you other information to help you gauge what the house sales are like in the area as well.
Now here comes the tricky part! When you are looking at the BOA comps do not use the comparables that have the highest value because 9 times out of ten those comps (even though they are like and kind properties in the area) will not be as accurate as you need them to be.
For example, the high comparable sales properties may be located near the water and in across the highway from where you're property is located. And you're property may not be in the same type of area.
(Note: When running comps try to search for like and kind properties that are as close to the subject property as possible, usually within a 1/2 mile radius is fine in suburban and rural areas.  In inner city areas you will want to search within a .25 mile radius)
Now on the other hand, you also should not use the lowest comparables sales available because it is highly likely that those sales were bought by other investors in your area.
So the idea is to stick to the properties that are located in the middle. This way you will get the best idea of what homes are selling for.
So what you need to do now is take the property values located in the median range and add them up. Then you want to divide the total by the amount of properties that you have used so that you can get a more accurate estimate of what the properties in the area are selling for.

For example:
Comp Source 1: $80,000 (Average Comp)
Comp Source 2: $85,000 (Average Comp)
2/165,000 = $82,500 is the Estimated Value according to this example.
One more thing that you want to keep in mind is to use the comparable sales that are the closest to your property in size and everything else.
Once you have an estimated number from 2-3 sources, what you need to do is add to estimated numbers up like I showed you in the example above, and then divide it by the amount of sources you used (just like in the example above). Doing this should give you a descent estimate that you can use to make the right offer on the property.
Now in order to have the opportunity to run comps on properties you need to find leads first.  If you want to check out a simple, yet effective FREE way of finding leads, then check out my 7 Minute Seller Lead Cheat Sheet Training Here >>
Be Sure to Leave a Comment Below and Let Me Know Your Thoughts!